QoMEX Awards
QoMEX2016 will select winners to receive the Best Conference Paper Award, the Best Student Paper Award.
The Best Paper Award and Best Student Paper Award aim to honour exceptional technical contributions and promote high-quality research within the technical scope of the conference.
The Awards Selection Guidelines are available here.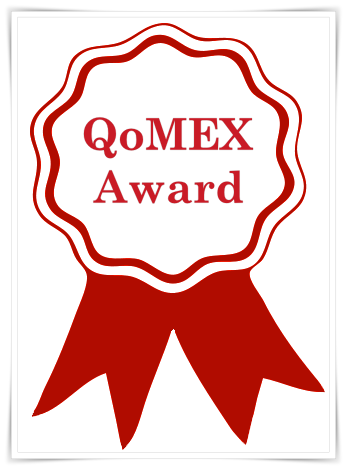 The papers selected for the awards are:
---
Vedad Hulusic, Giuseppe Valenzise, Edoardo Provenzi, Kurt Debattista and Frederic Dufaux.
Perceived Dynamic Range of HDR Images.
---
Nick Zacharov, Chris Pike, Frank Melchior and Thierry Worch.
Next Generation Audio System Assessement using the Multiple Stimulus Ideal Profile Method.
---
Thomas Zinner, Matthias Hirth, Valentin Fischer and Oliver Hohlfeld.
ERWIN - Enabling the Reproducible Investigation of Waiting Times for Arbitrary Workflows.
---
Michael Seufert, Ondrej Zach, Tobias Hoßfeld, Martin Slanina and Phuoc Tran-Gia.
Impact of Test Condition Selection in Adaptive Crowdsourcing Studies on Subjective Quality.
---
Lukas Krasula, Karel Fliegel, Patrick Le Callet and Milos Klima.
On the Accuracy of Objective Image and Video Quality Models: New Methodology for Performance Evaluation.
---
Maria Plakia, Michalis Katsarakis, Paulos Charonyktakis, Ioannis Markopoulos and Maria Papadopouli.
On user-centric analysis and prediction of QoE for video streaming using empirical measurements.
---
The final awards decisions will be taken after the presentation of these papers (see guidelines).